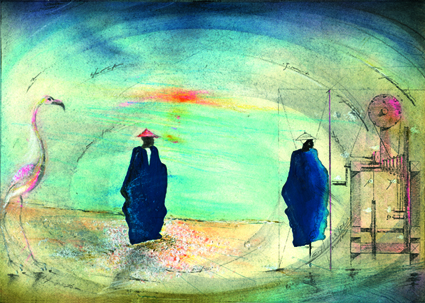 Meanwhile, trekking from one precariat to another has become a longtime common practice for us. The fact that short-termed possibility spaces open up and projects develop without long lead time also reveals current positions – direct statements with less voluntary self-control. Welcome to El Eden!
SVAAMSKSVF… (dangerous abbreviations)

One would assume a society sets down its own rules. And the means to find those rules should be politics. At present, though, fact is that politics is restructuring itself to an instrument of economy.
As a consequence, the entirety of requirements for a thriving communal life is subjected to simple market mechanisms. The effects are fatal: Anything not able to contribute to further economic growth because of different goals is considered obsolete and can therefore be axed. Redundant (national) wealth, revoked from real economy, becomes play money on virtual markets.
Thus, politics does not only coolly expropriate its Souvereign, but also hands back social responsibility to him. By the catchphrase "self responsibility", the withdrawal of politics from its duties to society is being justified.
Therefore, RHIZOM project "SVA – Social Venture Analysis" sets itself to trace the effects and to give back the knowledge gained via means of art.

Persons involved:
Colectivo Veinti3 (Consuelo Mora Benard, Moisés Mora, Juan Carlos Mendoza, Darwin Andino, José Montealegre), Alena Baich, Albert Pall, Frie Reissig, Dagmar Anna Hödl, ekw 14,90 (Moke Klengel, Christoph Rath, Marlies Stoeger, André Tschinder*), Gue Schmid, Alan Kline, Karl Wilhelm Krbavac, Margret Kreidl, Stefanie Sargnagel, Zita Oberwalder, Lucas Cejpek, amici delle SVA (Robert Blazek), IG-Kultur Stmk mit Lidija Radojević, Evelyn Schalk, Jogi Hofmüller und Anita Hofer, Ingo Abeska, H.J. Schubert, Angelika Thon, ed gfrerer, Mirko Maric, Leo Kreisel-Strausz, Geari Schreilechner, Sandra Ziagos, Jutta Zniva, Doris Prlic, Andreas Kurz und André Tschinder*, Rainer Possert, Heribert Hirschmann, Edgar Sorgo, Margit Maure, Hunger auf Kunst & Kultur, Salon Brösl mit Eva Brede, Johanna Glösl und Tanja Peball, Die Jugendlichen (J., A., K., O., M., I.)


April 11 - 12, 24 - 26, 2014 and May 1 - 3, 8 - 10, 15 - 17, 22 - 24, 29 - 31, 2014
always Thursday to Saturday
6 – 11 pm

deluxe precariat El Eden
RHIZOM
Jakoministraße 16/I
8010 Graz

With the support of the Cultural Office of the City of Graz and the Culture Department of the State of Styria.