Ein Buchprojekt (analog & digital)
In this discourse, conducted by practioners from various self-organizing forms in Austria, (mental) spaces are opened up to make the complex layers of structure that handle such projects in reality accessible and also shareable: individual and common matters, self-determined living and residing, community-based economics, use of our resources and much more. Different responses to precarious living conditions such as house squatting will also be addressed.
Personal recordings of what is important, of everything that must not be forgotten, on that day or over a longer period of time. As a mnemonic, a storage or an evidence to be able to give proof or to assure oneself. While the occurrance is ending, the memory fading, the narration being dismissed as fictional, everything committed to paper in the notebook serves as verification. The perceived moment in fragments outlined, to not leave it to oblivion. The notebook as the situatedness of particular moments in changing hierarchical priorities as a list of references of today's being.
Velika Kladuša, Bosnia-Herzegovina
Velika Kladuša, Bosnia-Herzegovina
260 kilometers from Graz. No doubt about that. Readable from the map.
3 hours and 24 minutes by car. 54 hours by foot. From Graz to Velika Kladuša. Depending on traffic jams, step size, driving speed. Calculable. Additive. Following the logic of one and one is two.
Is it equally far back to Velika Kladuša, though?
That would be logical.
But it isn't. It depends on who is driving. It depends on who is walking. Which passport you have. If you have one. Which skin color? Do you pass off as a European? Do you have money? Can you afford a 'people smuggler'? Do you have a place where you are safe?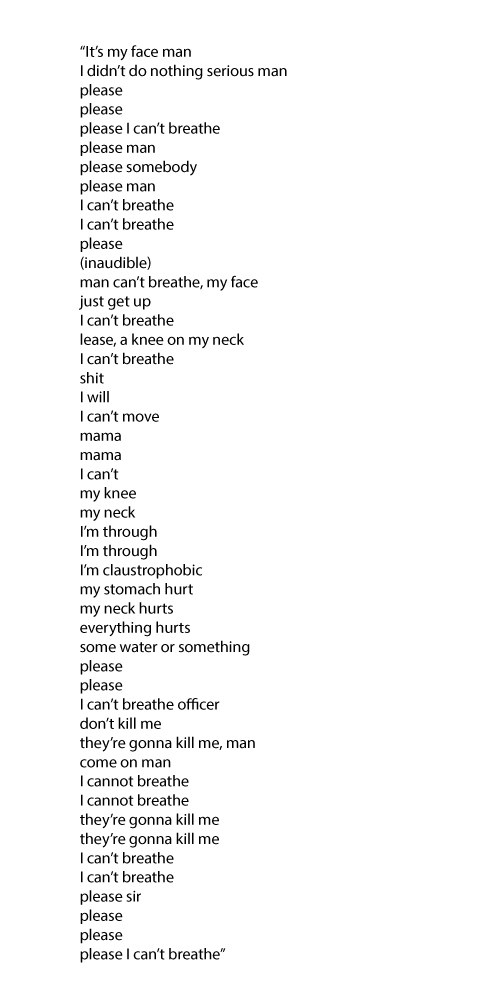 These are the last words of George Floyd, a 46-year-old man who died as a US police officer pinned him down, kneeling on his neck for almost nine minutes. (source: avaaz.org) LINK